Linen Overalls
Dungarees & Knickers "Don't Snicker At My Knickers!"
I've designed the overalls to fit from size 4 to 8 & size 8 to 12. The photographs will show different body types in the same size. The ties on the side make all the difference.
Cinch in for smaller sizes let out for larger body types.
Length is shortened by cuffing with button tabs.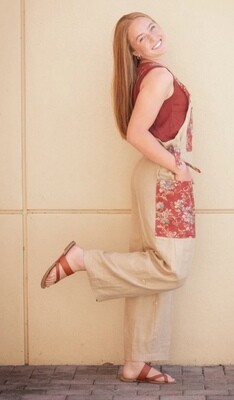 Tan Linen Overalls One-of-a-kind by gayle foshee'
Tan Linen Overalls One-of-a-kind by gayle foshee'
Women's overalls by gayle foshee' photos by bexphotographs